Cougar Connection (Online Newsletter) 10.17.2018
"Don't Quit!" Fitness Center Ribbon-Cutting
Congratulations to our stellar Physical Education teachers, Betsy Spiegel and Reid Anderson, on their latest achievement: A grant from the National Foundation for Governors' Fitness Councils!
Clayton is now home to the "Don't Quit!" Fitness Center which features brand-new fitness equipment that will benefit current and future CMS students. A BIG THANK YOU to Ms. Spiegel and Mr. Anderson for the time and effort they put into the application process—how lucky are we to have them as our teachers and colleagues?!
It was a fun day celebrating the ribbon-cutting of our fitness center and we celebrated by hosting Governor Herbert, Jake Steinfeld, and Superintendent Lexi Cunningham among many others who were treated to the best Eye of the Tiger flash mob song and dance anyone has ever seen!
Check out some of the media coverage by clicking the links below:
"Governor works with nonprofit to award Utah schools new fitness centers"
"Clayton Middle School fighting in war against childhood obesity with new fitness center"
"There's a new fitness center in this Utah middle school. It cost $100,000"
And click here for more information about the National Foundation for Governors' Fitness Councils.
Conjure Cash for Clayton
WE DID IT!!!
Thank you, students and parents, for your effort and generosity which helped us reach our fundraising goal!
8th Grade College and Career Readiness Conferences
The Clayton counselors are meeting individually with all 8th grade students and his/her parent/guardian for a CCR meeting which is part of the Counseling Department's Comprehensive Guidance Program in the state of Utah. During the CCR conference, parents/guardians and their student(s) and counselor will review high school graduation requirements, plan for both education and career goals using the "4 Year Plan", as well as provide resources for programs in the Salt Lake City School District. 
CCR's run from October 29th through December 12th and there are 3 ways to secure an appointment:
Online: Click the Online Scheduler button below, choose Clayton Middle School from the drop-down menu, and click "Go". Enter the password: clayton. Enter your student's Student ID number (if you do not know it, use the "Lookup Student ID" button to find it). Verify your student's birth date and select a date and time you would like to come in for your CCR appointment.
Phone: Call the office at 801-481-4810 and ask for Brooke Hyde who will help you schedule an appointment.
Wait for an appointment to be assigned to you and your student.
The window to make appointments opens on October 11th and closes on November 8th. We will have 4 evenings of appointments as well as many daytime appointments--there are a limited number of evening time slots and they may fill up quickly.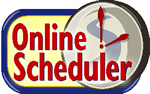 OPERATION ADVENTURE UTAH
This summer our very own Physical Education teacher, Reid Anderson, hit the road with a lucky group of 8th graders and headed down to Moab, Utah for a week of adventure. Mr. Anderson and a crew from Friends of Arches, Canyonlands Field Institute, and Canyonlands Parks led the students as they set up camp, hiked, river rafted, paddle boarded, ate good food, and played games. We are so proud of and grateful for Mr. Anderson and the organizations he partnered with for the opportunity and experience they helped create for our awesome students. We feel confident that this was a trip they will remember for a long time to come.
The video below sure does make us excited for next year's Operation Adventure Utah trip!
Extended Learning Program (ELP) Parent Meetings
The Extended Learning Program provides academic services for identified gifted and high ability students who are found eligible for services through an assessment process. Several parent information meetings are available to inform parents about the elementary and middle school Magnet Extended Learning Program (ELP) application and assessment process for the 2019-2020 school year. Join us at one of these parent meetings to learn more about the Magnet Extended Learning Program:
Wednesday, October 10, 2018, 6:00-7:30 pm at the Hillside Auditorium (1825 South Nevada Street)
Thursday, October 25, 2018, 6:00-7:30 pm at Administration Building with Spanish Translation Services (440 East 100 South, Rooms 112-113)
Wednesday, January 9, 2019, 6:00-7:30 pm at the Administration Building (440 East 100 South, Rooms 112-113)
Tuesday, January 15, 2019, 6:00-7:30 pm at Glendale Auditorium with Spanish Translation Services (430 West Andrew Avenue)
*For students entering grades 4-8 in 2019-2020, the application window is from September 25-November 1, 2018 and the assessment window is from November 2-December 7, 2018.
El Programa de Aprendizaje Avanzado ofrece servicios académicos a los estudiantes identificados como dotados y de alta habilidad que son eligibles por servicios a través de un proceso de evaluaciones.​ Varias reuniones de información para los padres se presentarán para informarles acerca del proceso de solicitud y evaluacion del Magnet Programa de Aprendizaje Avanzado (ELP) de la primaria y de las escuelas intermedias para el año escolar 2019-2020. Acompáñenos en una de estas reuniones para padres y aprenda más acerca del programa Magnet del Aprendizaje Avanzado:
Miércoles, 10 de octubre, 2018, 6:00-7:30 pm en el Auditorio de la Escuela Intermedia Hillside (1825 South Nevada Street)
Jueves 25 de octubre, 2018, 6:00-7:30 pm en el Edificio Administrativo  (440 East 100 South, salones 112-113)
Miércoles, 9 de enero, 2019, 6:00-7:30 pm en el Edificio Administrativo (440 East 100 South, salones 112-113)
Martes 15 de enero, 2019, 6:00-7:30 pm en el Auditorio de la Escuela Intermedia Glendale con servicios de interpretación en español (1430 West Andrew Avenue)
*Para los estudiantes entrando grados 4-8 en 2019-2020, la temporada de solicitud es del 25 de septiembre al 1 de noviembre, 2018, y la temporada de evaluaciones es del 2 de noviembre al 7 de diciembre, 2018.
2019-20 ELP Application           2019-20 Aplicación de ELP