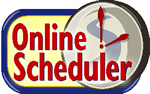 The Clayton counselors are meeting individually with all 8th grade students and his/her parent/guardian for a CCR meeting which is part of the Counseling Department's Comprehensive Guidance Program in the state of Utah. During the CCR conference, parents/guardians and their student(s) and counselor will review high school graduation requirements, plan for both education and career goals using the "4 Year Plan", as well as provide resources for programs in the Salt Lake City School District.
CCR's run from October 24th through December 12th and there are 3 ways to secure an appointment:
Online: Click the Online Scheduler button above, choose Clayton Middle School from the drop-down menu, and click "Go". Enter the password: clayton. Enter your student's Student ID number (if you do not know it, use the "Lookup Student ID" button to find it). Verify your student's birth date and select a date and time you would like to come in for your CCR appointment.
Phone: Call the office at 801-481-4810 and ask for Pat Winkler who will help you schedule an appointment.
Wait for an appointment to be assigned to you and your student.
The window to make appointments opens on October 9th and closes on October 30th. There are a limited number of evening time slots and they may fill up quickly.